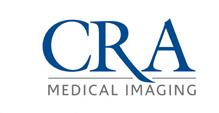 About CRA Medical Imaging
CRA is a radiology group providing imaging services and image guided procedures throughout Central New York. We have been working in the Syracuse medical community since 1986 growing from our original operation at Crouse Hospital to now include services at Community General Hospital, and Oswego Hospital as well as serving outpatient sites in East Syracuse, Fulton, and Auburn. We provide MRI services at multiple sites as a member group of Magnetic Diagnostic Resources (MDR). CRA also provides image interpretation services to multiple local medical groups including Hematology-Oncology Associates, Syracuse Orthopedic Specialists, Associated Medical Professionals, and CNY Internists.
Our group is committed to providing high quality services to patients and their referring physician groups. Many CRA radiologists have fellowship training in subspecialties that include neuroradiology, interventional radiology, nuclear medicine, breast imaging, body/cross sectional imaging and MRI. CRA has invested heavily in technology to provide faster results and easier communication with your physician. CRA is utilizing Digital Imaging (PACS) at all sites and is also using voice recognition dictation. This leads to faster results for referring providers and patients as well as easier consultation amongst radiologists for complex cases.